Portable Interlocking Barriers
• Ideal for directing people in areas where crowd control is required
• Rugged welded steel construction
• Feet are removable so railing will lay flat for shipping and storage
• Includes connectors to attach multiple units together
• Overall size is 102" L x 40" H
• Distance between vertical bars: 7"
• Rail diameter: 1 5/8"
• Weight: 56 lbs.
Available in: Galvanized Finish, or Safety Yellow
Ez-Span Expandable
Plastic Barricades
• Made of durable recyclable polypropylene
• Expandable plastic barricade providing an attractive, visible warning barrier
• Rugged enough for outdoor use and it is weatherproof,
maintenance free and contains no parts that will rust or corrode
• Retracts and expands up to 11 1/2', but folds down to a compact16 1/2" x 3' high
• Plastic feet will not scratch or mar expensive floors
• Weight: 15 lbs.
Expandable Barriers
Steel and aluminum construction

Collapsible design allows for easy storage when not in use

Lightweight and free standing for easy setup when needed

Side hook allows multiple units to be used together

Expanded width: 10'

Height: 37"

Weight: 20 lbs.

Colour: Black and yellow

Optional caster kit: 4 Castors for $32.25

Quantity breaks start at 2 + units
CCI Canada Plastx A-Frame Barricade
• Ideal as a temporary or long term solution to cordon off areas
• Patented Plastx will not rot, rust, crack or peel and is chemical resistant • ADA compliant to MUTCD standards
• For a complete unit order two legs and one board, add a second board for increased stability.
PLASTX A-Frame Barricade Leg • Mounting holes will accommodate all manufactured boards. Holds up to two 8' L x 2" W x 8" H boards • 26" L x 2" W x 42" H • Available in white or orange
Board available in black and orange stripes or white and orange stripes . Items sold seperately so you can mix and match.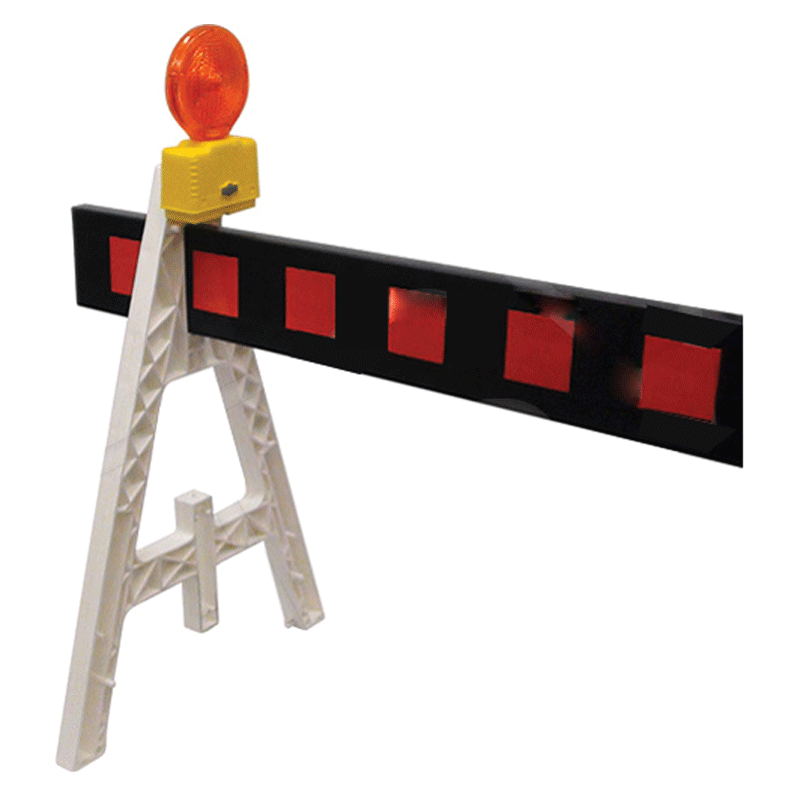 Barricade Lights
• LED Light source with 3-way photo cell technology
• High clarity polycarbonate lens provides extreme durability
• Attaches to most barricades and channelizers
• Meets all MUTCD and ITE specifications
• Amber coloured D-CELL BARRICADE LIGHT
• Three modes: flash, steady, off
• Pushing on the mode switch changes the light from a flashing type "A" to
a steady burn type "C" and back again. Batteries sold seperately.
To order: (Click on the Below Images)
Quest Brands® Safety and Snow Fence
• Lightweight, reusable and durable for easy handling
• NJ433: Protect shrubs from freezing rain and heavy snowfall • NJ434 & NJ435: Controls drifting and blowing snow • High density polyethylene • High visible colour
• Colour: Orange • 50' L x 4' W